This talk is personal opinion. I am not speaking on behalf of Yahoo!
Slides presented using Slidy by Dave Raggett
Outline of talk
Tags and Tagging
Presentation of Tags
Tag uses
Semantics of tagging
How to go through the tag
A tiny bit of RDF
Tagging
A lightweight process to describe web content using short words called Tags
The Tagging Process
Combines:
The person performing it, the tagger
The web resource URI that is being described
The date and time of the tagging process
The set of tags used - the tagset
Presenting Tags
Lists of resources for a tag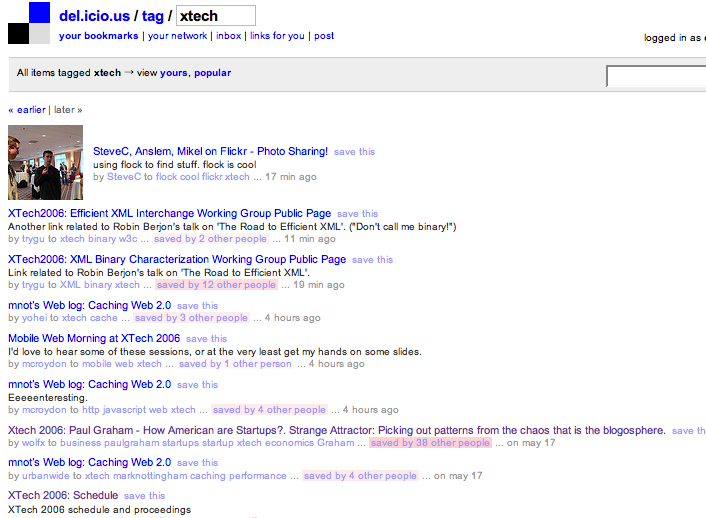 Popular tags : Tag Clouds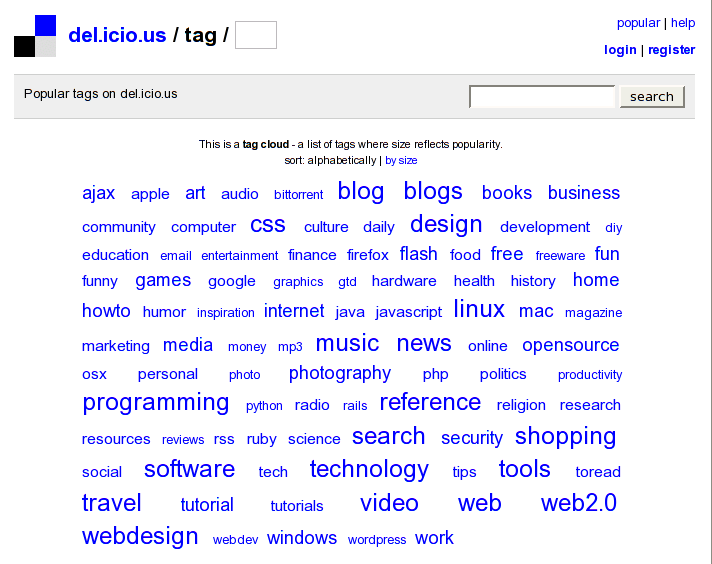 Suggested Tags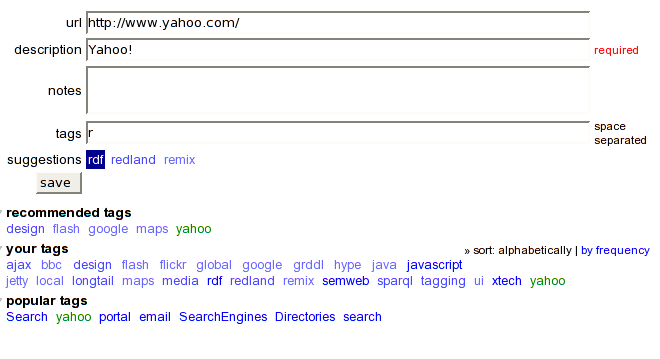 Automated analysis of tags
Mashups
The Big Assumption: a tag is a primary key
Works well on events such as xtech: Technorati, Planet XTech
Emergent Tag Structures
Structures
Geo tagging - lat/long, places



geotagged
geo:lat=123.456
geo:long=-123.45


Cell tagging


celltagged
cell:network=MyNetwork
cell:mcc=300
cell:mnc=400
cell:lac=5000
cell:cellid=6000


Blue tagging


bluetagged
bt=001234abcdef

Hierarchy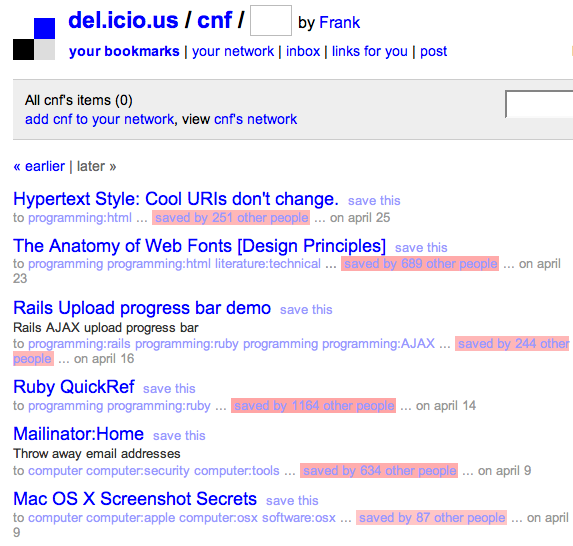 cnf on delicious
Grouping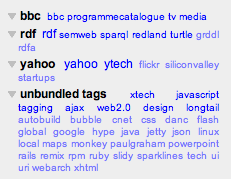 Whose stuff is tagged?
Yours on the tagging site
Other people's on the tagging site
Anybody's
Whose Tag is it Anyway?
Ultimately, who cares?
Tags are vocabularies per service - tagonomies
So what are the purposes of tagging semantics?
For people to understand what some use of a tag means.
For computers to gather information about a tag, supporting purpose #1
What does a tag mean to a person?
Ask them? Not scalable.
Look it up in some authority? (dictionary, encyclopedia). Not distributable.
Tagging: Good Things
Very low barrier to use: just start typing
Few restrictions on syntax
Unrestricted word space
Social description (folksonomy)
Many takes removes individual tagging wierdness
Easy to experiment with new ideas for description and structuring
Tagging: Problems
Formalism problems: mixing types of things, names of things, genres, made up things, ambiguity, synonyms, ...
Meaning is implicit
Power curves - nobody explains the long tail tags
Naive tag mashups mixup meanings
Syntax problems - stemming, plurals
tricky to make a short and unique tag
i.e. the usual human-entered metadata problems
Tagging semantics possible solutions
Microformats: no good hook for software, read only
Web APIs: for programmers only
RSS: read only
Tagging Unplugged
Separate the tag from the service
Now have a gap: how to go through the tag to find the meaning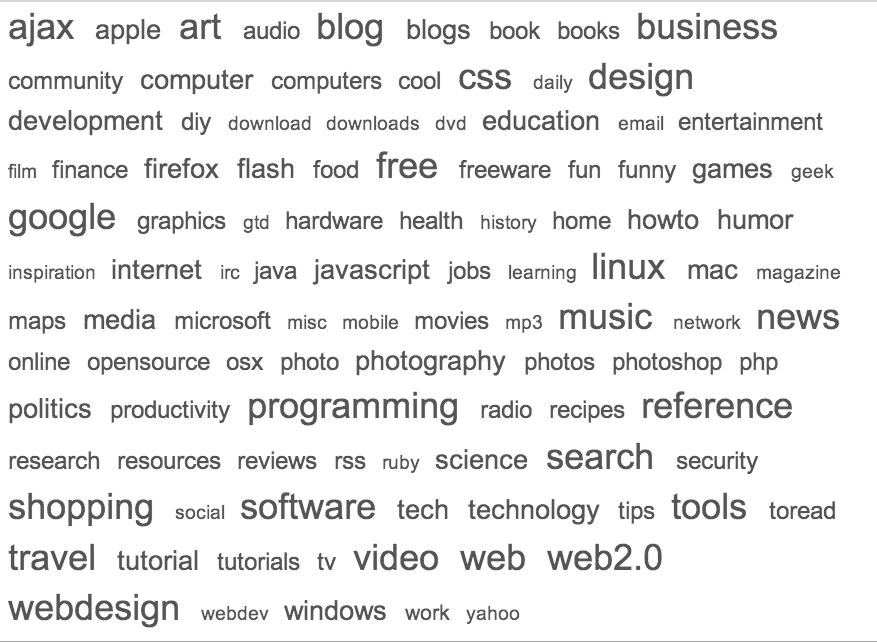 Going through the tag
Want
A description
A community
A historical record
Answer: Wiki
A description - the page
A community - discuss and/or edit
A historical record - history
Wikitag
Easy to create
Can record ambiguity and synonyms/prefered names
Microformat compatible:
Visible metadata in wiki markup
Reuse of existing formats
Semantics from Tagging
Tag raptor links to http://en.wikitag.org/wiki/raptor
Edit this page to add the meaning you meant.
Discuss it if you don't understand the term
Add disambiguation
Wiki is not so good at
Discussion: needs easy to use threaded discussion
wikipedia rules: e.g NPOV and encyclopedic style
Centralised :(
The RDF slide
as much or as little as you want
Conclusions
Tagging is a social process with a gap:
the place for a community to build the meaning
Wiki can fill the gap
RDF can help go through the tag
If you have enjoyed this talk...
You've gone too far

STOP NOW